Are you looking for July travel inspiration? This year consider a trip to majestic Niagara Falls. You'll find a vast area filled with historical significance, awe-inspiring natural beauty, and activities for the whole family to enjoy.
A visit to Niagara includes the three iconic falls, American Falls, Horseshoe Falls, and Bridal Veil Falls. You'll also find miles of hiking trails with outstanding views in the Niagara Parks, including Whirlpool State Park and Devil's Hole State Park. Spend time on the Niagara wine trail, tasting Pinot Noir, Chardonnay, Riesling, and their unique ice wine.
A tour we think you'll love
Explorers can spend the afternoon admiring Niagara Falls from a boat on the Maid of the Mist tour or from the Cave of the Winds splash deck. At night Niagara Falls lights the night with an illumination show and fireworks displays. If you are lucky enough to visit Niagara Falls over the 4th of July holiday, you'll find even more to enjoy in the area.
How To Enjoy A Niagara Falls 4th Of July Spectacular For Your First Time
If this is your first visit to Niagara Falls USA then we have a few suggestions for how to plan the best trip to this amazing natural wonder.
First, remember that federal holidays are busy all over the US. Many Americans get the 4th of July holiday off from work and use it as a chance to schedule a long weekend. In 2023 the 4th of July falls on a Tuesday. By using a vacation day for Monday, you can have a four-day weekend and only give up one planned time off (PTO) day. This brings us to suggestion number one:
Plan your sightseeing for any day but the 4th of July! Iconic tours like Maid of the Mist and Cave of the Winds will be crowded, and traffic will be especially jam-packed on the actual 4th of July. Use that day to enjoy the Niagara Falls fireworks and plan your site seeing for any day before or after Independence Day.
If your schedule is tight and you simply must visit all the usual Niagara Falls sites, do so early in the morning, before 9:00 am. Start with your Maid of the Mist boat tour before 9:00 am, followed by a Cave of the Winds visit. After that, traffic will have picked up, so be patient. Plan ahead and bring snacks.
Whether you visit the top Niagara Falls sites before, during, or after Independence Day, take a look at our next suggestion for the best way to enjoy Niagara Falls 4th of July week.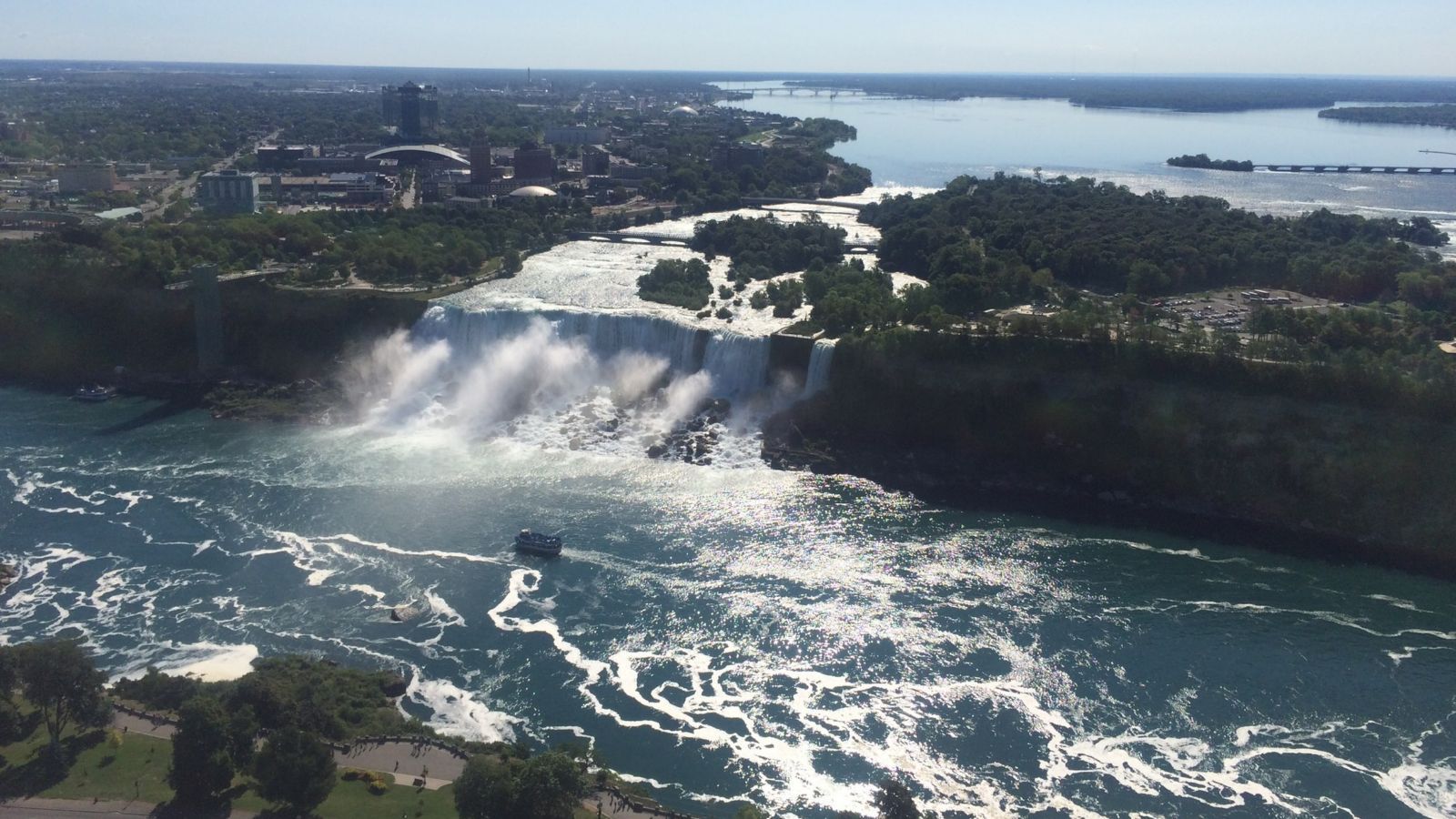 Explore Niagara Falls With A Local
Your holiday time is precious, and you should enjoy your visit without wondering where to go, how to get there, where to buy tickets, and how to avoid the lines. Enlist the help of a local Niagara Falls guide like the knowledgeable team at Niagara Regional Tours wants to be your local contact for everything you need to enjoy your visit.
With a local guide, you can see sites like the American and Canadian horseshoe falls, Niagara Falls State Park, Niagara River, Terrapin Point, and the observation tower at Prospect Point while your guide shares geology information and historical stories. Take a Maid of the Mist and the Cave of the Winds tour with a guide, and you'll get insider information you wouldn't otherwise hear about.
Let the team at Niagara Regional Tours take care of the logistics for you, so all you need to do is show up and meet your guide. Join a scheduled tour or plan an individually curated private tour. They offer small group tours by boat, trolley, and walking. They'll show you the best of the iconic sites at Niagara Falls without the hassle of figuring out where to go and waiting in line to buy tickets.
The summer season, and especially the 4th of July at Niagara Falls, are busy times, so book your excursions on the website or call them as soon as possible.
Niagara Falls On The Canadian Side
You'll need your passport to get from Niagara Falls USA, to the Canadian side but with all the great attractions, it's worth the effort. You can enjoy fast-paced action, family-friendly activities, live summer entertainment, and the view from the other side of the American and Canadian Horseshoe Falls.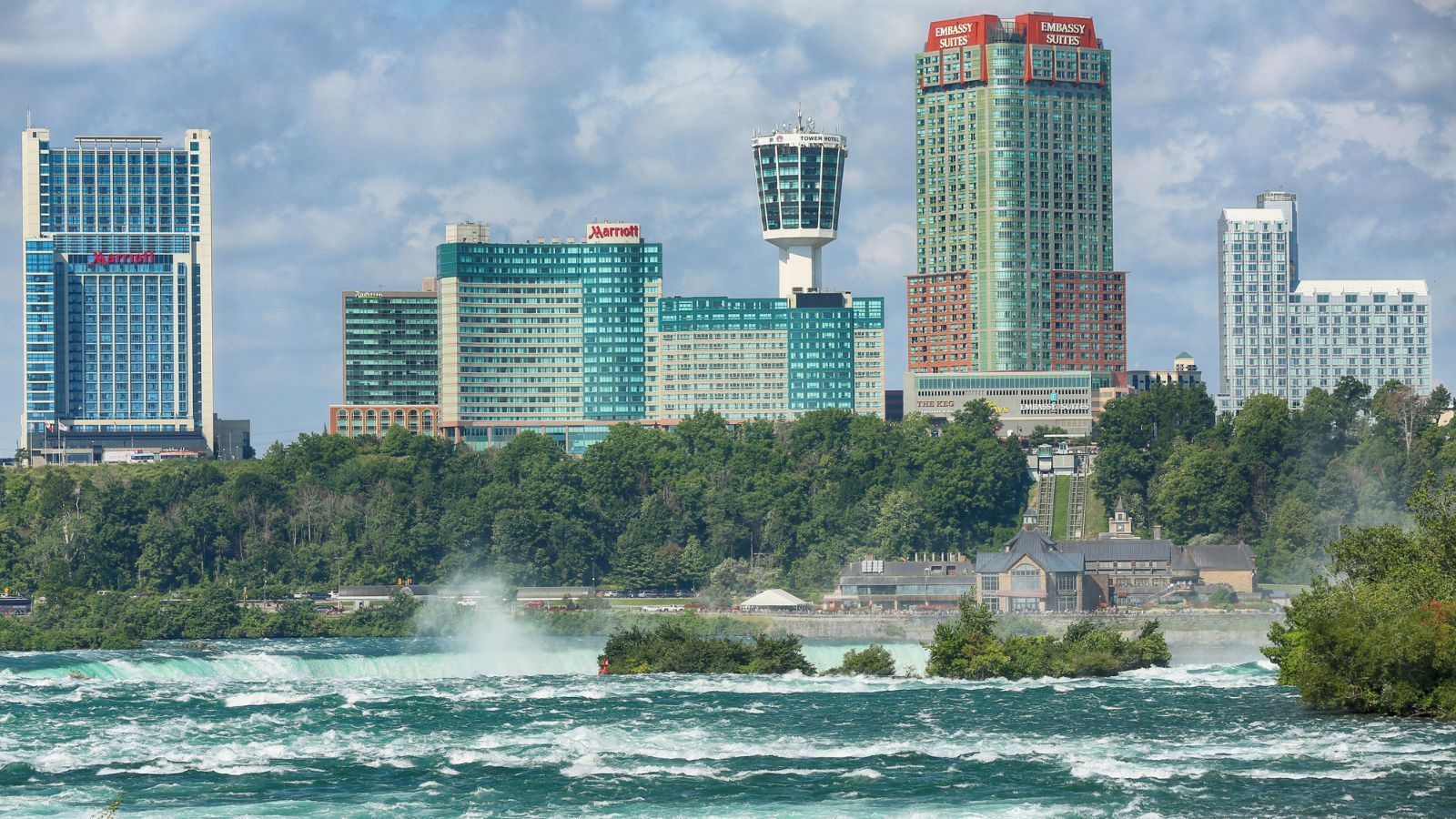 Clifton Hill
Clifton Hill is where you go for midway games, casinos, restaurants, miniature golf, kart racing at Niagara Speedway, and theme park roller coaster-style attractions.
Attractions at Clifton Hill include:
Niagara Skywheel

Niagara Speedway

Mini golf at Dinosaur Golf or Wizard's Golf

Zombie Attack 6D Theatre Ride

Movieland Wax Museum

Cosmic Coaster XD Theatre Ride

Ghost Blasters Dark Ride

Clifton Hill
Queen Victoria Park
To see the Niagara Falls fireworks from Canada, you'll want to make your way to Queen Victoria Park. With a view of Canada's Horseshoe Falls, Queen Victoria Park is arguably the most beautiful of all the Niagara Parks. There are lush green lawns, quaint park benches, hanging flower baskets, and a rose garden.
For hiking, there is the Niagara River Recreation Trail which connects Queen Victoria Park with two other Niagara Parks, Kingsbridge Park, and Dufferin Islands.
The daily fireworks show can be best viewed from Queen Victoria Park. The summer fireworks show is daily from May 19 through October 9 at 10:00 pm.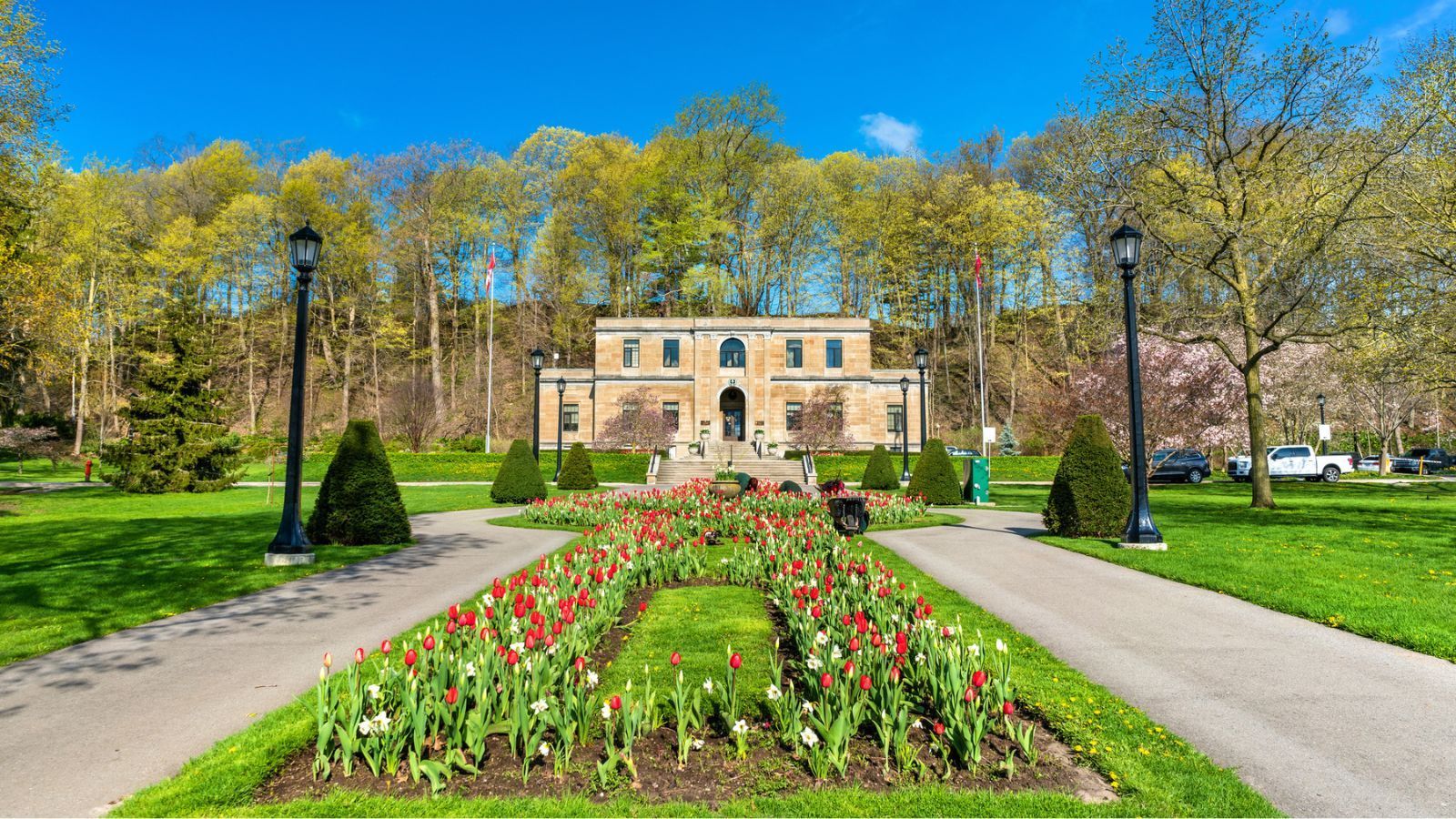 4th Of July Events In Niagara Falls – Old Falls Street Festival
The Old Falls Street Festival is one of the best family-friendly 4th of July events in Niagara Falls. The Old Falls Street historic district covers three blocks of cobblestone streets between the Niagara Falls Convention Center and Niagara Falls State Park.
Beginning May 10 and continuing through the end of August, Old Falls Street Summer is a hub of summer activities.
Stop by on the 4th of July weekend for free concerts, food trucks, and family fun with games like giant chess, ping-pong, and cornhole.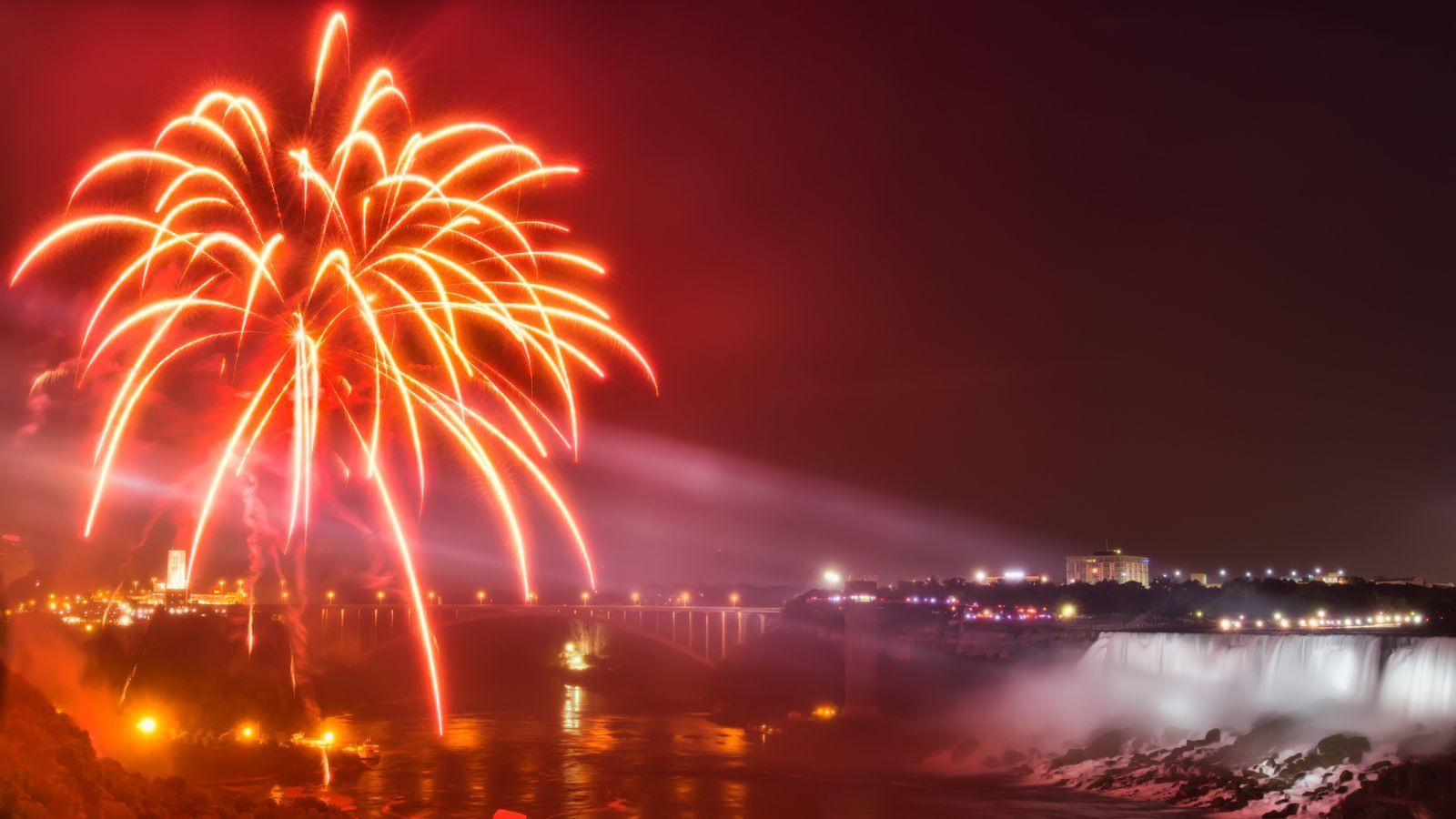 Enjoy An Old Fashioned Parade For The 4th Of July At Niagara Falls
On the banks of Lake Ontario, about 30 miles northeast of Niagara Falls, is the quaint town of Olcott, New York. Olcott celebrates the 4th of July each year with an old-fashioned Patriots' Day Parade.
The parade starts at 12:30 pm at Krull Park overlook before heading down Main Street and ending at Olcott Beach Carousel Park.
Children who participate in the parade receive free ice cream and a ticket to ride the carrousel. Afterward, there is a concert at the Olcott Beach Gazebo from 2:00 pm to 4:00 pm.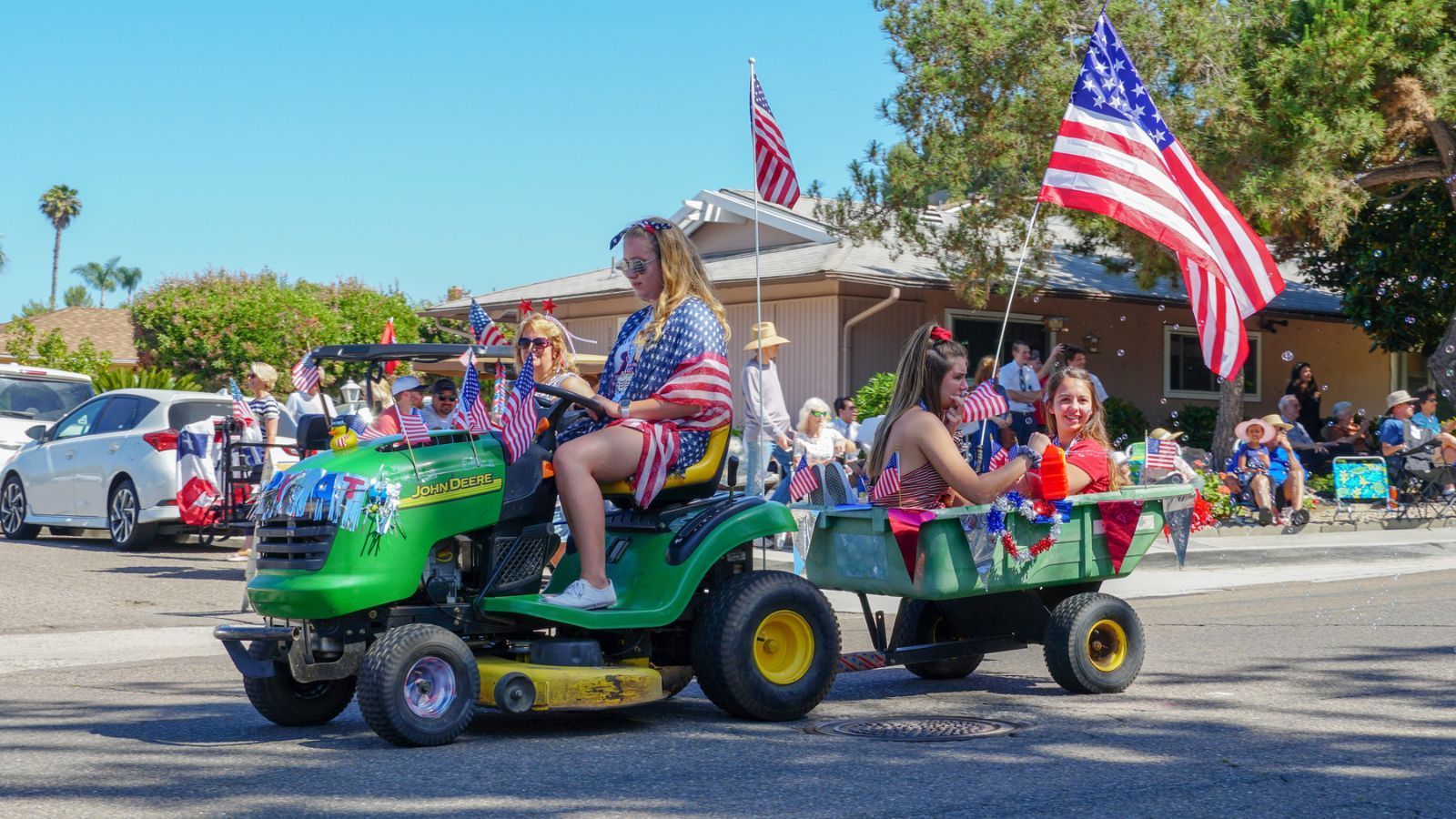 Niagara Falls Fireworks & Illumination Schedule
Throughout the year, there are two shows that happen over the spectacular falls at night, the fireworks displays and the illumination of the colored lights.
The illuminated lights display happens every night. The lights are in three locations:
Illumination Tower – next to Queen Victoria Place

Table Rock Center – on the roof

Horseshoe Falls

Niagara Gorge – across from the American Falls
Throughout the year, on significant dates, the colors change and are illuminated with customized lights in 15-minute increments to support various charities. For the 4th of July, the falls are illuminated in red, white, and blue at the top of each hour for 15 minutes.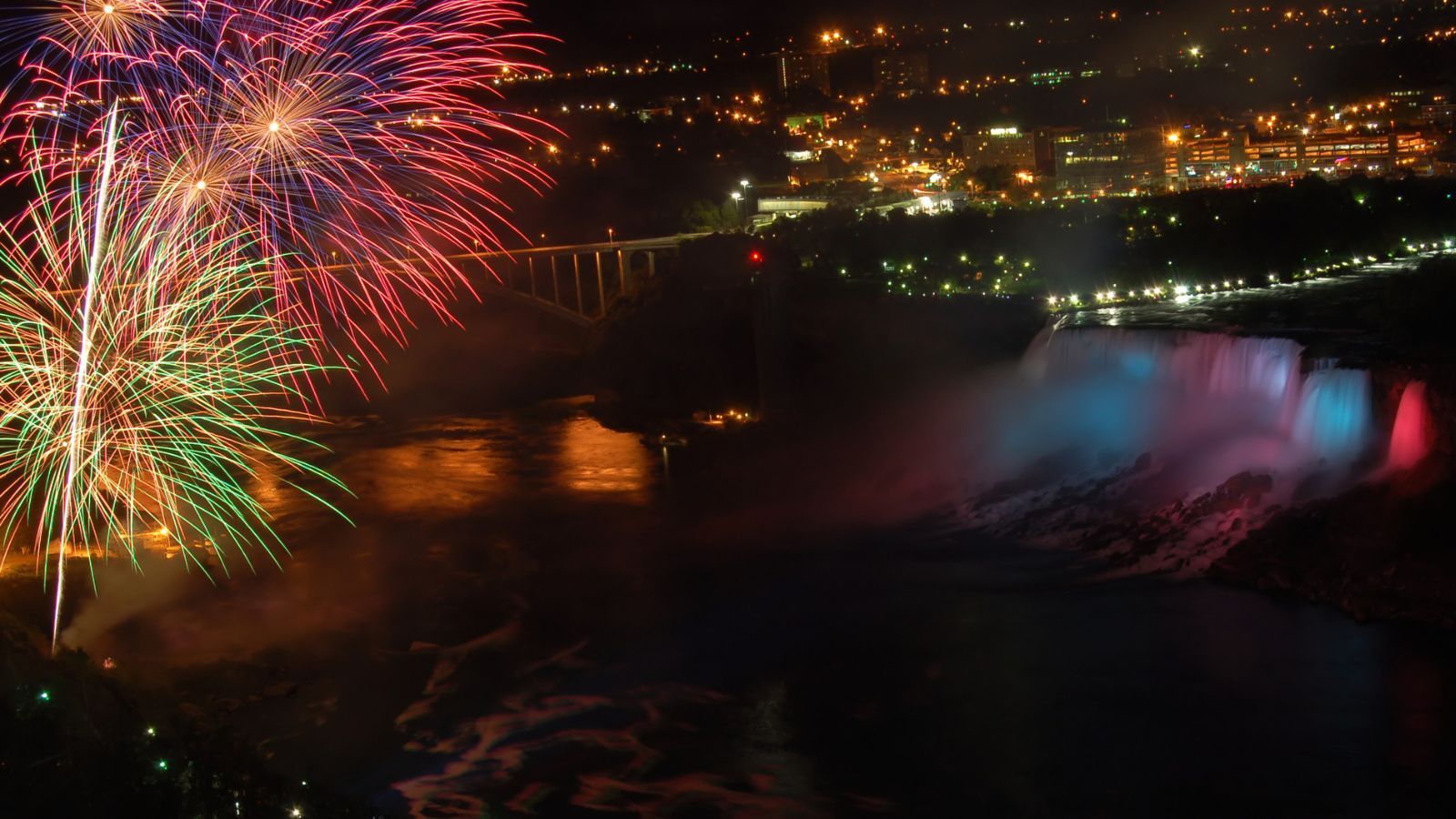 Niagara Falls Illumination Schedule (Lights on/Lights off):
January 1 – 31: 5:00 pm – 1:00 am

February 1 – March 11: 5:30 pm – 1:00 am

March 12 – 31: 7:30 pm – 2:00 am

April 1 – May 14: 8:00 pm – 2:00 am

May 15 – July 31: 8:30 pm – 2:00 am

August 1 – 15 : 8:00 pm – 2:00 am

August 16 – 31: 7:30 pm – 2:00 am

September 1 – 19: 7:00 pm – 2:00 am

September 20 – 30: 6:30 pm – 2:00 am

October 1 – 15: 6:15 pm – 2:00 am

October 16 – 31: 6:00 pm – 2:00 am

November 1 – December 31: 4:30 pm – 2:00 am

Schedule
Niagara Falls State Park Fireworks Displays
From May 19 through October 9, the Niagara fireworks displays will begin at 10:00 pm each night, weather permitting. The fireworks displays are longer and even more spectacular on the 4th of July. For the safety of all visitors, if adverse weather conditions exist, the fireworks displays are canceled.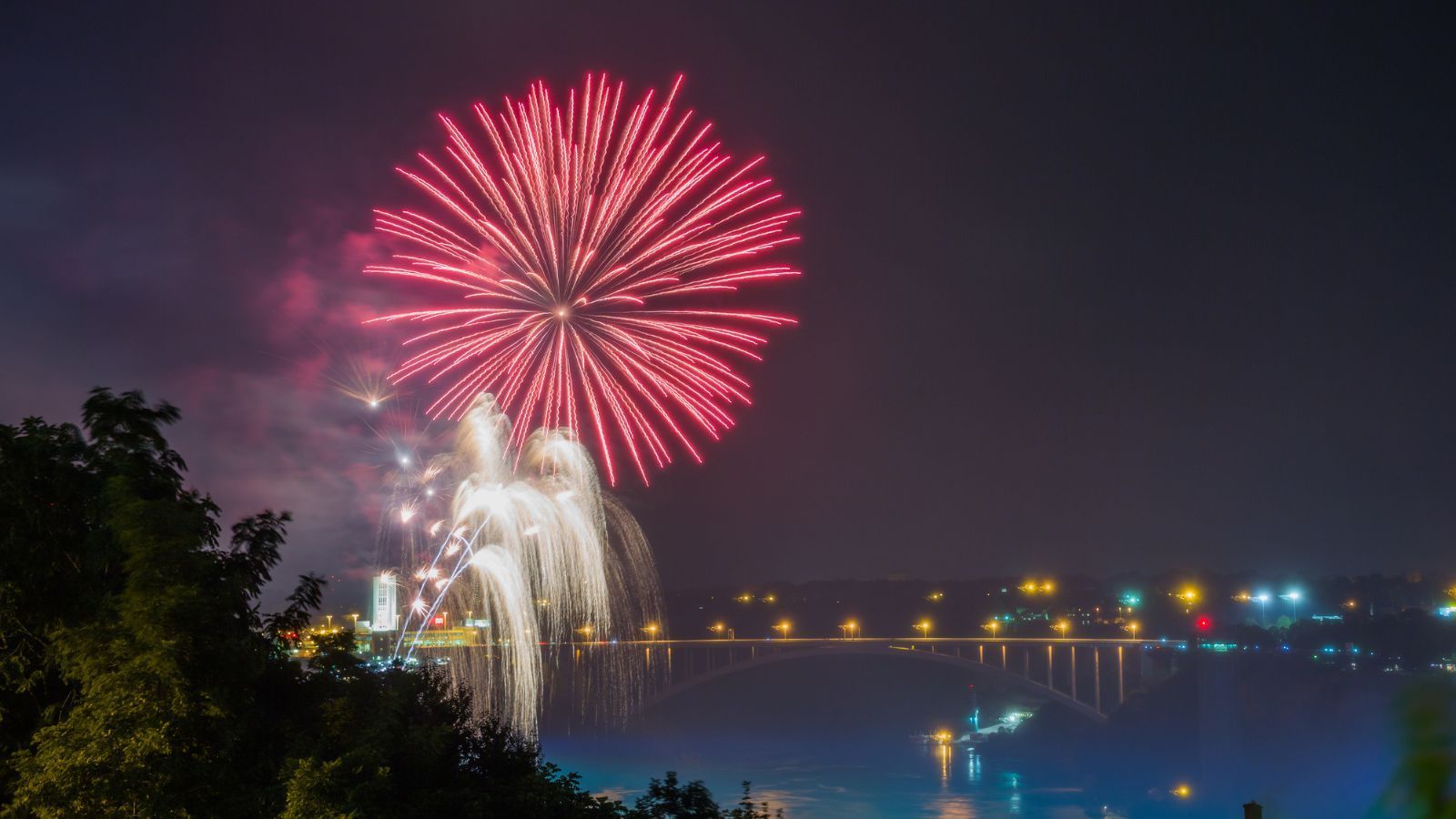 Best View For The Niagara Falls Fireworks Displays
It is possible to get an excellent view of the Niagara Falls fireworks from both the Canadian and the United States sides of the falls.
On the American side of Niagara Falls, Prospect Point is the best place to watch the July fireworks. The show happens in front of American Falls and you can see Canadian Horseshoe Falls in the distance. You can also view the July fireworks from Terrapin Point and Luna Island.
On the Canadian side of Niagara Falls, the best view is from Queen Victoria Park. Stake your claim on a spot anywhere in the grassy outdoor spaces. You can also view the fireworks from the Niagara Skywheel or the Queen Victoria Place Restaurant.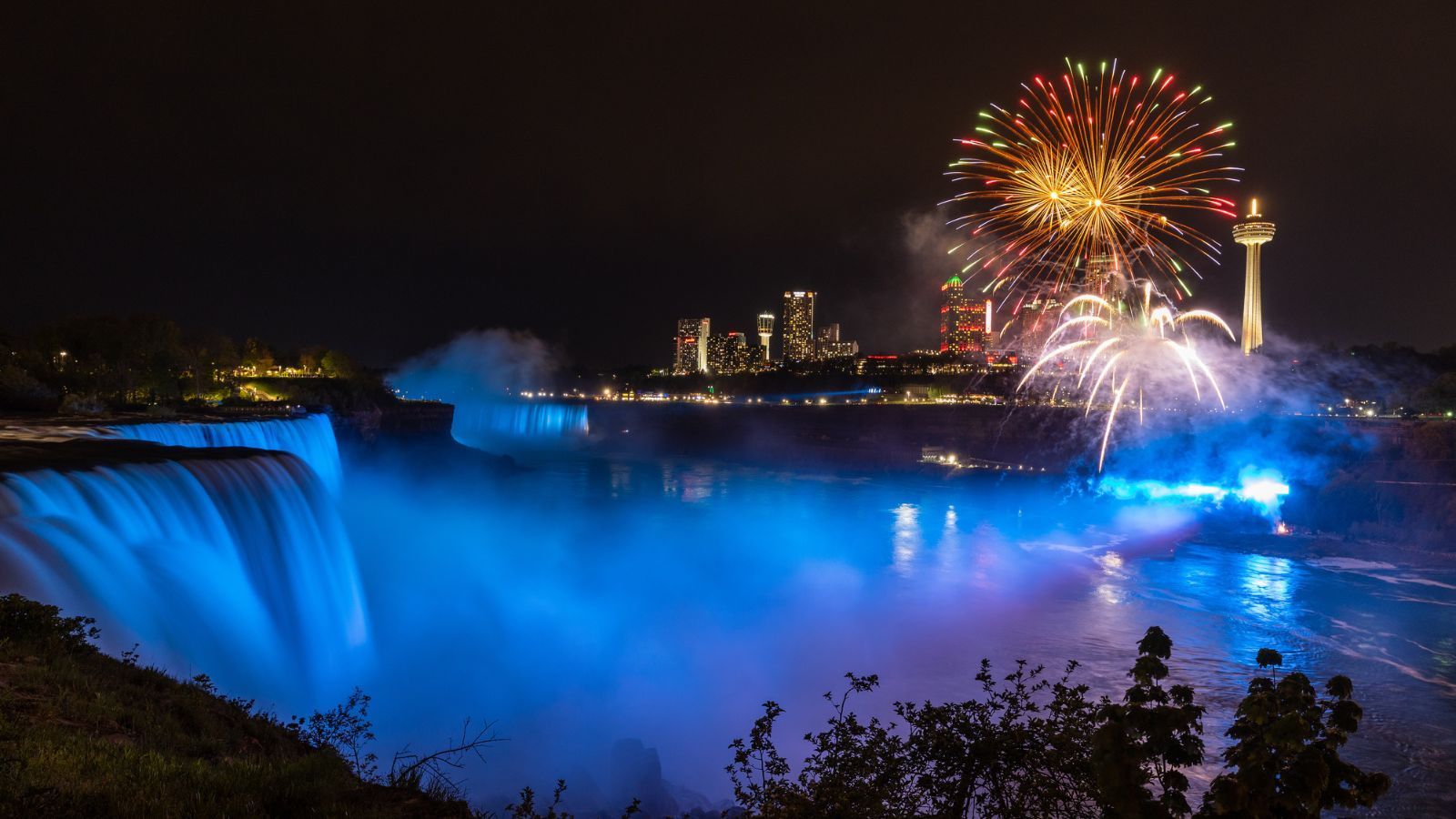 Festivals Are A Great Time To Visit Any City
Visiting any city when there is a festival happening is a great time to hang out with the local people and enjoy celebrating with them. The best time of year to visit Niagara Falls is over the 4th of July holiday. Stop by the Niagara Parks and enjoy the outdoor spaces with a picnic lunch.
Spend an afternoon with us and explore Niagara Falls with one of our spectacular tours. Our experienced guides know the best places to take you for wine tasting. They'll show you where to get wet on the Maid of the Mist boat and the Cave of the Winds tour. Plus, you'll learn more about the area and hear lots of entertaining stories.
Check out our list of guided tours to book online, or give us a call today. We look forward to showing you around our town.